Graham Reid | | 1 min read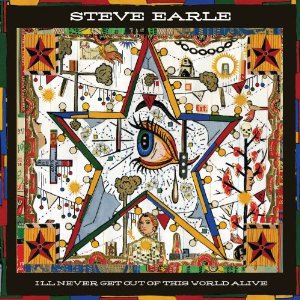 Perhaps because there is already so much Steve Earle in the world -- this is his 14th studio album by my account -- there is very little frisson of delight or surprise coming from this album.
Little Emperor would seem to be addressed to George W Bush ("no pomp and circumstance, no more shock and awe, you're just a little emperor that's all") but seems belated -- although no one questions Earle was outspoken during that particular regime -- and the fiddle-driven shanty-like Gulf of Mexico will play well in Irish bars, especially if Shane MacGowan gets up to share in Earle's Pogue-like hoarse vocal. But it doesn't resonate here.
This City is another tribute to New Orleans with a horn section, but his slow and sad delivery hardly gives cause for the optimism the lyric suggests. It is also a leaden note to end the album on.
And throughout Earle goes through folk-sourced material (Molly-O, I Am A Wanderer), his worn-down-but-believing-man observations (God is God), acoustic singer/songwriter soul baring (the rather lovely Every Part of Me), a dreary duet with Allison Moorer on Heaven or Hell which has an unworthy lyrics . . .
Meet Me in the Alleyway is interesting -- grounded in Tom Waits of the early Eighties (Swordfishtrombones to Rain Dogs) with a New Orleans funky skew -- and Lonely Are the Free is a moving acoustic ballad which steers a course between the Biblical and the political.
So not a great Steve Earle album, just another one.
Interested in Steve Earle? Then you really need this one.