Graham Reid | | 1 min read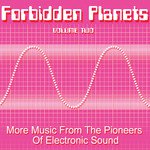 Subtitled "More Music from the Pioneers of Electronic Sound", this double disc with a booklet will not be for everyone. But if the original theme to Dr Who, the Bebe and Louis Barron soundtrack on the film Forbidden Planet and even the more demanding music in 2001: A Space Odyssey (nope, not the Strauss) held any appeal then you should sign up for this collection.
Much electronic music today -- especially that in art installations -- refers to very little outside of itself, but these pioneers (among them Luigi Russolo, Messiaen, Milton Babbitt, Stockhausen, Xenakis and Joe Meek) often aimed for something approaching melodicism and entitled their works in a way which alluded to their inspiration and intention.
So here you have Awakening of a City (Russolo, 1921), Ballet Mecanique (Gerge Antheil, '24), Orasion (Messiaen, '37) and so on.
Of course other pieces are not so referenced in the "real" world, but that said there is not a lot here which approaches pure sonic noise and many of these works, notably those on the first disc which stretches from the Twenties to the mid Fifties, are quietly beautiful. Messiaen's Turangaula Symphonie, 6th Movement is an almost Romantic piece and quite transporting.
As the impact of the "space age" became increasingly apparent after the Second World War, electronic music unhitched itself from this world and imagined others -- and so there are works here which reflect that (Otto Luening's whimsical Fantasy in Space).
And of course there are spaced out cut-ups (John Cage), the sound of radio static and random sound (Stockhausen, Giselher Klebe), minimalist bleeps and blips (Hugh Le Caine's quirky Dripsody), the inevitable Piece of Tape Recorder (Vladimir Ussachevsky's gloom-soaked piece from '56) and the humorous (Dick Raaijmakers as Kid Baltan with his oddball version of the Colonel Bogey march from '57).
Also here are a couple of Barron pieces from Forbidden Planet, Raaijmakers under his own name with the skittish Tweeklank and the great Joe Meek (of Telstar fame) with the strngely liquid-sounding and rather dramatic Glob Waterfall.
No, not for everyne. But if given a decent hearing, for more people than might first expect to be interested in this expansive genre.
Like the idea of this? Then check out this . . . which is different again.