Graham Reid | | 1 min read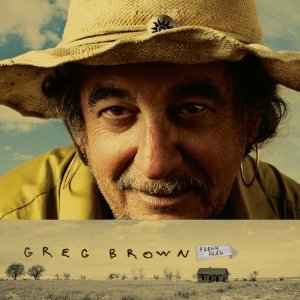 When you get to your 24th album you probably aren't expecting a major breakthrough in terms of having a whole new audience find you. And nothing on this fine album sounds like either a departure, or capable of taking this poet/singer beyond those who already know of him.
Formerly the musical director on the famous A Prairie Home Companion radio show, married to Iris De Ment and with a daughter Pieta an acclaimed singer-songwriter, Greg Brown is one whose musical path many might have crossed. He's certainly appeared at Elsewhere before (here).
The story behind the making of this is interesting: he had already recorded an album's worth of his dusty, crusty country-touched songs when a lightning strike hit the studio and he lost everything. Relocating to Ardent in Memphis (with guitarist/producer Bo Ramsey), he wrote a batch of new songs -- only the title track and perhaps Lovinest One remained of the previous songs -- and hunkered down to deliver this intimate and rough-edged collection.
Brown's vocals are endearingly croaky and gentle, the arrangements are uncluttered, Mark Knopfler guests on the dark brown baritone ballad Flat Stuff, and he sings of love (the album is dedicated to Iris), life as rootless traveller on the road, and waving his Freak Flag high as a man of his post-war/Vietnam generation.
Mercy Mercy Mercy brings in some swamp funk guitar, he delivers a memorable treatment of De Ment's Let the Mystery Be as a backporch philosopher in his rocker meditating on death and follows it with the optimism of Pieta's Remember the Sun.
Tenderhearted Child at the end is as gentle as the title suggests, as moving and sentimental in its own way as Dylan's Forever Young.
Yep, 24 albums in and Brown is still a contender, at 61.
Like the sound of this? Then check out this.