Graham Reid | | 2 min read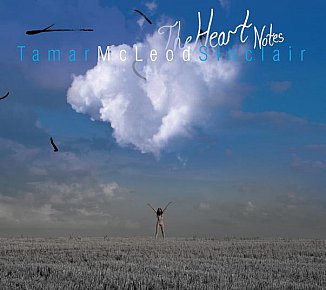 No one would accuse this Auckland-born graduate of Wellington's Massey University Conservatorium of Music of lacking ambition. This, her debut, is the result of her internationalism (she has worked in various parts of Europe for over five years) and the songs were written everywhere from Sydney and parts of Italy to Scotland, Switzerland and the Czech Republic (where it was recorded, as well as in Barcelona and Dundee).
She also enjoys the support of string and horn players alongside her piano and vocals. And this is a concept album about searching, love, faith (she walked El Camino de Santiago) and spirituality which has reference points in Maoritanga (it opens with a whispered proverb in te reo) and the sacred feminine (the title of one track). Oh, and she mixes spoken word with songs, ambient with orchestration.
It is quite a literal and metaphoric journey she takes you on.
After that proverb she is wondering about her travels ("where is my home, where is my resting place?") in a rather breathless race over stuttering electric guitar and a frantic acoustic guitar solo before Departure Gate which is voices and concourse announcements recorded in Sydney's airport. Then we Touch Down in Milano (a swinging, tenor sax-driven piece with scratching by a DJ, again with breathless urgency in her vocals).
Such a pace is hard to maintain (and difficult to absorb) and fortunately from there on the songs include more meditative pieces on love (temporal, spiritual), a quiet and moody instrumental For Roma in two movements (the first over what sounds like the rhythm of a train, then into a piano and acoustic guitar duet for Thierry Regis and Jan Vaclav Vanek respectively) and Into the Darkness, the first part of which is spoken word and the second mildly disconcerting ambient drones (vocal and didgeridoo).
As a vocalist McLeod Sinclair is strong and flexible but too often she gives herself a mouthful of lyrics to deliver -- and every now and then are lines which clunk or strain for effect: "Face your fears on your feet"; "Tenderly you show me all the beauty I have inside, I am a precious little child in this bel canto"; "As we walked through the world today, sitting by your side . . ."; "I want to dance the dance of life with you".
And at almost six minutes, May We Find Happiness outstays it welcome.
Yet the multi-faceted Always (despite "everything will be OK, just trust that everything will go its way") is a swelling ballad with strings, more frantic acoustic guitar and a hypnotic passage in Gaelic (over harp) which carries you whole seven and a half minutes. It is terrific.
This wide-ranging and far reaching album is at its best when it is in the world of art music (For Roma, Always, Into the Darkness) or just letting itself go (the danceable Thankful with some lyrics in te reo). But where New Age sentiment takes over in the lyrics (May We Find Happiness, Love's Song, the multilingual Follow Your Heart which is a litany of feel-good affirmations) and when the songs stretch they strain to breaking point.
That said, the romantic and effectively mysterious Sacred Feminine at six minutes is the exception.
So Tamar McLeod Sinclair has created an impressive and ambitious debut on which she generously allows her fellow musicians to take considerable space of their own, and they do her proud.
That is rare, on both counts.
Like the sound of this? Then check out this.