Graham Reid | | 2 min read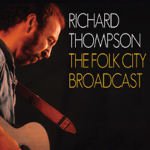 There seem no half-measures with the legendary English singer-guitarist Richard Thompson. People either "get" him or – despite acclaim as one of Britain's greatest guitarists, the OBE and honorary PhD he received this year, and being credited as founding British folk-rock with Fairport Convention in the early 70s – they remain indifferent to, or ignorant of, his particular genius.

His admirers include Husker Du's Bob Mould, REM, Neil Finn, Elvis Costello and there have been tribute albums, but he doesn't recycle past glories.
His last album, the live Dream Attic, was a daring and courageous outing. With his small band he introduced new material on an American tour and much of it wasn't easy. He seemed full of bile and rage, included a terrifically withering swipe at Sting ("the mirror's his best friend") and produced one of the finest albums of his long career.

It was a solo career that began badly however.
His debut Henry the Human Fly (1972) sold so poorly it was almost immediately deleted, although today many consider it landmark in electric folk-rock.
Between then and Dream Attic he has delivered exciting albums (Rumor and Sigh and Mirror Blue from the early Nineties are useful starting points on his solo career) and most famously with his then-wife Linda created the classics I Want to See The Bright Lights Tonight in '73 and Shoot out the Lights in '82, their last before they separated.

The same year they broke up Thompson appeared solo in Gerdes Folk Club in New York where he recorded two radio broadcasts, some of which came out as the album Small Town Romance.
Now however other material from those shows appear as The Folk City Broadcast, 19 songs which include Fairport's Genesis Hall, the traditional Flowers of the Forest, The Old Changing Way from Henry, and his exceptional Streets of Paradise and Dimming of the Day from the wonderful Richard and Linda album Pour Down Like Silver.

He throws in an instrumental jig and George Formby's hilarious music hall pleaser Why Don't Women Like Me but mostly explores that darkness within him on Walking on a Wire ("and falling"), How Many Times Do I Have to Fall, Never Again and others.

The sound isn't the best but – as he jokes with the crowd and takes requests – you feel right there while Thompson works out his demons, leavens it with humour and offers gripping songs.

Time to "get" him if you haven't already.
NB: I am given to understand that this album has not been sanctioned by Thompson or his management and they are taking action to prevent its release. So while we disapprove of th practice, we would just say to Thompson aficionados . . . you better be quick.
Like the sound of this? Then check out this.