Graham Reid | | 1 min read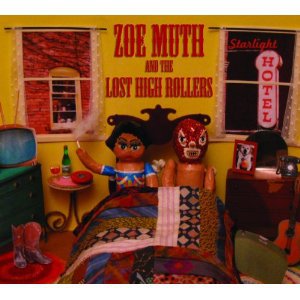 Les alt. than country, Zoe Muth from Seattle invites favourable comparisons with Eilen Jewell and early Emmylou Harris, and a whole host of Nashville writers who are smart enough to still have their hearts in the honky-tonks.
These are pedal steel and mandolin stories which cut out the fat and get right down to the sad and lonely bones of heartache or true friendship, or kick along with that world weariness which suits Muth's slightly drawled vocal style so well.
Some have likened her to Lucinda Williams but that seems a stretch, there are times here when she best recalls classic Dolly Parton in the eloquent simplicity of her lyrics, or even Kris Kristofferson (Harvest Moon Blues). And she isn't without wit either.
If I Can't Trust You With a Quarter (How Can I Trust You With My Heart) is a honky-tonk angel, juke-box honey whose musical taste is far superior to the man trying to pick her up.
There's also rural folk here as on the lean Tired Worker's Song which again ideally suits her worn-down delivery: "I'm tired of all this anger, broken dishes and alarm clock, my heart is breakin', breakin' with the thought of losin' you . . . I think it's time for a change."
And the band are superb and understated throughout.
Their self-titled debut in '09 was voted one of the top albums of the year by No Depression readers and Modern Acoustic named her New Artist of the Year in '10.
This one confirms those accolades in 10 refined songs which come from, and go to, straight to the heart.
Like the sound of this? Then try this.