Graham Reid | | 1 min read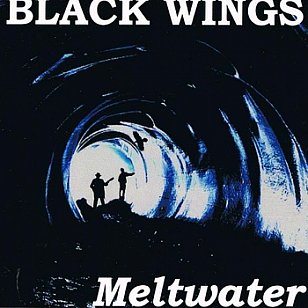 When a band names itself Black Wings and opens an album with tracks entitled Grave and Straight Jacket you know it should come with that warning sign they have at theme parks: "This is a dark ride".
And these dark rides have their musical references in early Chills and Cure with a smattering of the dreamscape the Church brought to Priest = Aura.
The thrum and rolling hum which propels many of these songs however is quite addictive and the band (Brendan Conlon, JC Burns and Tristam Laycock from Palmerston North) mix up the seeming gloom with lyrics which actually deal with love of various kinds (damaged, doomed) and in the case of the swirling Pahiatua Track, just a little humour.
In fact Pahiatua Track could be a strange alt.folk song at heart, as is the mournfully slow title track (which offers that rarity in New Zealand rock, the namecheck of Eketahuna).
Their eerie and menacing treatment of Paul Kelly's I Won't Be Your Dog Anymore brings in a portentous sense of doom with Maori flute, but Salt sounds alarmingly like a move towards a radio-friendly pop song with its gently repeated guitar figure and easy melody.
Amber crosses the chipping pop of Dave Dobbyn with Church-like drone pop.
Black Wing certainly aren't cheerful company here and by the final third you may feel you've heard all they are going to do. But despite the foreboding titles of Grave and Straight Jacket this isn't always the dark ride it seems and the thick end of these nine tracks are oddly seductive.
Like the sound of this. Then check out this.