Graham Reid | | 1 min read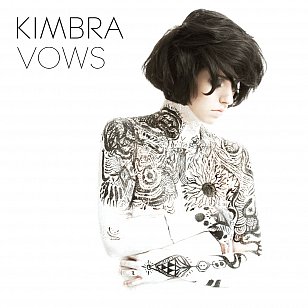 For most people flicking the music channels and being confronted the relentless and facile bump'n'grind r'n'b or ever-so-serious young men with guitars, the clips by Kimbra -- formerly of Hamilton, now based in Melbourne -- come as delightful surprises.
They look fresh and eye-catching, intelligent in the face of the sexed-up drivel (her musings on married life in Settle Down) and just kinda fun too. The simple choreography, smart editing and her unflinching gaze into the camera on Cameo Lover make it a winning and engaging clip, and -- as on Settle Down -- she doesn't go for elaborate dance moves but keeps her gestures simple but effective.
She was also the star turn on Gotye's song and clip Somebody That I Used to Know.
All of these however were just teasers for this sassy and smart debut album where she turns pop onto a dance beat, refers cleverly to the synth-splattered Eighties (Old Flame) and most courageously covers Plain Gold Ring which Nina Simone delivered as a broody and bruised ballad back in the late Fifties, and Nick Cave and the Bad Seeds also covered.
For someone just 21 this is an ambitious song to include on a debut, but her slightly haunted treatment and lightly poppy vocal arrangement fits right in alongside her impressive originals. And of course she has already addressed married life in Settle Down.
She has a clever way with shifting a beat or pulling her vocals in an unexpected direction (Two Way Street), pitches Good Intent somewhere between a Grace Jones-lite backdrop and a vocal straight from a cabaret, and Call Me is clever off-beat summertime pop with snapping bass and an ear towards melodic rap.
Throughout she bounces off some terrific backing vocals (her own, multi-tracked) but she also puts you on notice that this isn't all just frothy fun.
She sings with emotional depth when required, Withdraw is a midnight blue nightclub ballad and the final track is the five minute The Build Up with lyrics which could in other hands sound alt.country ("I went from cities to touch the suburbs, I'm on the highway but I'm barefoot, I needed a map but not the destination, I need a compass but not a conversation").
There's a hidden coda about two minutes after The Build Up ends which shows she could just as easily inhabit the territory where Tom Waits lives.
Beyond r'n'b, there is some real smart pop out there right now, and this is at the top of the totem pole.
I doubt you'll hear a more classy, sassy, clever and enjoyable pop album this year, nor one which has this much fun and maturity in equal measure.
And if you get in quick there is the expanded edition with five live-in-the-studio tracks on a DVD which prove she can do this on record and video clips and live.
Can't ask for better than that.
FOR OTHER 'BEST OF ELSEWHERE 2011' ALBUMS GO HERE.