Graham Reid | | 2 min read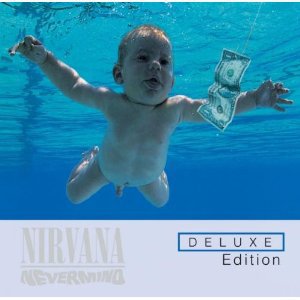 Recently, for an impending publication, I was relistening to hundreds of albums, many of them considered classics.
Some had aged very badly, others sounded more interesting (and influential) after the passages of years . . . and rare ones sounded as thrilling now as they did at the time.
Shorn of the detritus of hype, grunge fashion, fandom and all the others things Nevermind accrued at the time (the album that got alt.rock into the front page of the business section of the New York Times), it still sounded an exciting collection of fraught, taut and anxious songs which are memorable and, in many instances, exceptionally melodic.
Two decades on and the remastered album -- here with numerous B-sides, live tracks, previously unreleased rehearsals and so on totaling a whopping 39 tracks and about three hours long -- is getting its time in the sun again.
Elsewhere has already thrown a light onto it in the context of its time (see here) and also has an article/interview when they broke enormous, just before they played an indifferent show in New Zealand.
So the question is not what you get with the remastered album (more of the same just better?) but what are among these extra tracks which make the Deluxe Edition worth investigating.
Short answer? Plenty. (Unless of course you have been snapping up bootlegs.)
Eight of the tracks are from sessions at Smart Studio with Butch Vig and pre-Grohl drummer Chad Channing (half of them unreleased) which later formed the core of the album after they signed to Geffen. Many -- under different titles, Immodium became Breed, the explosive Pay to Play became Stay Away etc -- sound much more raw, and there's a downer treatment of Velvet Underground's Here She Comes Now which they usually kicked up harder live.
Then there are a swag from what have become known as the Boombox Sessions with Grohl now in the band. These were, as the title suggests, rehearsal runs through newer material for Vig to listen to . . . and include early versions of Smells Like Teen Spirit, Come As You Are, Territorial Pissings and Something in the Way which made it onto Nevermind. Again, unless you have bootlegs, many of these are unreleased -- and the band sound exceptionally committed.
Rounding out the extra tracks are some BBC sessions (unreleased versions of Drain You and Something in the Way) and producer Vig's previously unreleased original mix of Nevermind (the Geffen album was mixed by Andy Wallace).
This is a lot of very exciting Nirvana (the Boombox rehearsals have poor sound but an energy which is undeniable) so could anyone want for more?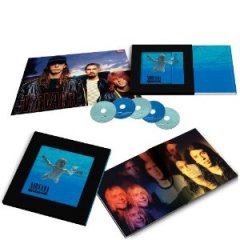 If you do there is an even more expanded Super Deluxe Edition of five discs which includes all of the above plus a live DVD, video clips and memorabilia. It is a limited edition.
One for the collecting obsessive perhaps?
But if you ever got excited by Nevermind, the more economic although still lengthy Deluxe Edition is really worth investigating.
The Smart Studio Sessions contain some extraordinary versions.
And you can't say that even though Kurt was just singing for a boombox he didn't give his all.
Extraordinary indeed.