Graham Reid | | 1 min read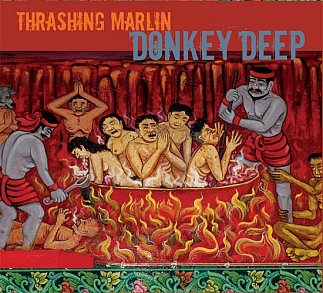 Four albums in a 15 year career seems a leisurely pace but David Donaldson and Steve Roche – the core of Wellington's Thrashing Marlin – are busy on other projects, as Donaldson indicates in his interesting answers to the Famous Elsewhere Questionnaire.
Still, this album is worth the wait as they throw their considerable multi-instrumental skills at a collection of 14 songs (well, 13 songs, Thai Train at the end is a recording of exactly what it says) which opens with the deceptively folksy Time of You Life (ironic and country, not the Green Day song) but quickly gets down to darker business on Tangiwai Train – a nasty piece about death and damnation – and the brooding, Bali drug courier narrative Another Man's Grave.
Later on the Waitsean Lust and Found we encounter more bad drugs, the short instrumental Doledrums has a disconcertingly woozy quality (Indian instruments, Indonesian percussion) and on The Shadow of Doubt an old time New Orleans sound hints at the funeral march to come.
Where To From Here? almost sounds like pop but twists it on the lyrical front and adds strange fiddle, and Come On Home is rural blues. Sort of.
A Rock to the South sounds like bitter, contemporary folk about one of those remote New Zealand shit-hole towns which suits the singer just fine.
These dark songs of crime, punishment, evil-doers and alcohol come wrapped in an entirely appropriate cover, and are rendered as disarming musical spin-offs from country, cabaret, moody folk-rock and sea shanty-like melodies with eerily evocative instrumental passages between.
Like flicking the channels late at night and every black'n'white film has Robert Mitchum as a bad preacher, Orson Welles in a dark tunnel or Tom Waits is hosting his own snake-oil medicine show version of The Twilight Zone.
And that, in case you didn't get it, makes for a very good thing.
Donkey Deep is available from here.
Like the sound of this? Then check out this.