Graham Reid | | 1 min read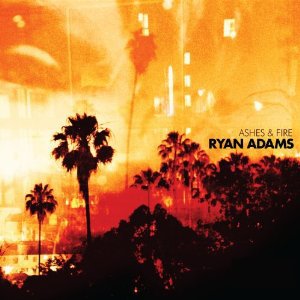 Those with a passing interest in Ryan Adams' highly productive career -- which most recently stretched to published books of poetry -- will be understandably bewildered that there is a new album, given he announced his retirement in '09 . . . and subsequently kept releasing albums from his not inconsiderable song vaults.
This solo album however is a return to his career with an album proper, if we could call it that, and was recorded with legendary producer Glyn Johns (Beatles, Dylan, Who, Stones and father of Ethan who recorded Adams' most acclaimed album Gold among others).
Despite a small band, occasional strings, pedal steel player Greg Leisz and keyboard assistance from Norah Jones and Benmont Tench, right from the intimate, folksy opener Dirty Rain this feels very like a solo album where Adams places his songs and himself right at the centre. Although there is all that discreet assistance, these songs sound written on an acoustic guitar in a small room . . . and tellingly the album was recorded in his home studio.
If there is a theme here it Adams reaching out for a lover he is losing/has lost with sadness, support, need and comfort.
The fine centre-pieces Come Home ("as the years grow longer I will be here by your side"), Rocks ("I am not rain, I'm just another shadow in the stream that's been washed away") and Do I Wait ("if you're not gonna show then we're not gonna fight") all address this idea in songs which are slow, melancholy but not resigned, and sympathetic.
Throughout Adams is too confused to read the signs, everything the lover means is bigger than the space between them, promises to keep the faith after being lost (the nakedly inarticulate I Love You But I Don't Know What To Say with Jones) and -- when all is gone in Save Me -- he asks for help.
On paper this could make for a musically understated album which is somewhat glum, but out of the overall mood Adams manages to deliver such clearly focused songs with memorable refrains and that folk-country intimacy that it mostly highly engaging.
Adams is out doing some solo shows and you can imagine these will be real hankie-twisters for some.
That said, there are times when you feel these might have been leavened by songs where the sun rises with an upbeat 12-string rather than sets into the dark ocean at mid-tempo to the sound of viola, cello and pedal steel . That might have made for a rather more persuasive career reviving album at this time.
More fire, fewer ashes perhaps?
Like the sound of this? Then check out this.

FOR OTHER 'BEST OF ELSEWHERE 2011' ALBUMS GO HERE.