Graham Reid | | <1 min read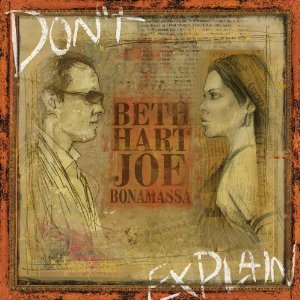 Janis Joplin would scare the daylight out of most sleeve sucking, infantile women pop singers cluttering the charts and few have taken her as a role model.
Hart played Joplin in a stage production and seemed well cast given her sandpaper-brushed roar. Here with Black Country Communion guitar virtuoso Bonamassa, she covers material by Tom Waits (Chocolate Jesus), Etta James (I'd Rather Go Blind, Something's Gotta a Hold on Me), Billie Holiday and closes with the tear-stained Ain't No Way associated with Aretha Franklin.
Hart and the small band sensibly pull back on the songs by Waits, Melody Gardot (a soulful quivering, string coloured version of Your Heart is As Black As Night), Aretha and Holliday's aching Don't Explain, but both she and Bonamassa let go on a crunching version of Bill Withers' For My Friends.
The terrific eight minute centrepiece I'd Rather Go Blind reaches for a deeply soulful place.
Some of these are classics with the original artists' fingerprints all over them, but Hart brings something personal to each and when she reaches into Brook Benton's midnight blue ballad I'll Take Care of You and country soul on Delaney and Bonnie's Well Well you hear an artist with great range, a singular interpreter of a lyric, and in sympathetic company with Bonamassa.
Special and adult, but doubtless scary for some.
Like the sound of this? Then check out this.