Graham Reid | | 1 min read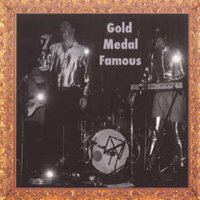 Out of Wellington, New Zealand -- where people like to put on fancy dress for parties -- comes Gold Medal Famous who recently recorded a song, John Key is a Dick (BBQ Reggae Version) which might help you get a bead on them.
If they are serious they certainly disguise it well, especially on this album with songs titles like Don't Just Text Me, Call Me, I Want to Make You Come, They're Drinking My Punch and Justin Bieber (a target as obvious as the new PM Key, so is just saying his name and dissing him all that funny or clever?).
The album title might suggest more than this delivers too, if you tune in for some kind of National Lampoon-like deconstruction of rock. Most of this is short concentration span riffery and ideas delivered with energy and enthusiasm and on hilarious cheap tools.
Yep, it's kinda fun in that "wished I'd seen that" way because you can guess that costumes and presentation are a very big part of their charm. The sort of band where you might be in the audience one night and playing theremin for them the following week?
Humorous? A bit, but perhaps not as much as they might like to think. And is stating the obvious becoming more ironic? Dunno.
Musically interesting? Sure, if you don't like surf rock it will end soon and grinding electronica will drop by for a while before they get a $2.50 disco beat going.
A variety show on record. But as with most such shows you probably have to be there.
Or, for the full indulgent hilarity, be in the band.
Like the sound of this? Then check out this.