Graham Reid | | <1 min read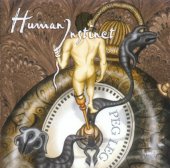 As interesting for its back-story as the contents, this period piece has been rescued from dusty vaults.
Auckland band Human Instinct scored with a couple of much sought-after classic Kiwi rock albums in the late Sixties/early Seventies, notably Stoned Guitar and Pins In It.
In '75 the band - guitarist Phil Whitehead, keyboardist Steve McDonald and bassist/singer Zaine Mikkelson, and with founder-drummer Maurice Greer still firmly at the helm - recorded these tracks at Stebbings, which were promptly filed then subsequently thought to be lost. They were rediscovered a couple of years ago and given studio polish for this first-time release.
Kicking off with Lynyrd Skynyrd's Freebird doesn't make for the smartest of tracking orders, but from there on it's mid-Seventies, lightly exploratory progrock with pop-awareness (and sometimes dippy lyrics like "don't leave your mind on the shelf") which references Floyd, glam-era Bowie, King Crimson, Space Waltz, and the Elvin Bishop Group whose Struttin' My Stuff of the same year might have been among their favoured listening.
One for collectors and old fans, most likely, but also proof these musicians - Whitehead especially - were the equal of any at the time. And what a ripe old mind-expanding time it was.
The kazoo solo seems a little uncalled for however.