Graham Reid | | 1 min read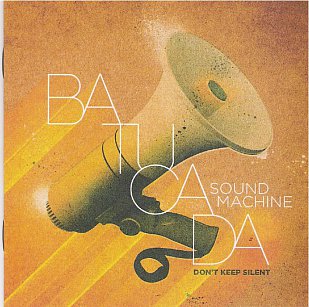 Driven by assertive (and in places aggressive) drumming, boiling bass and propelled by a fist-tight horn section, Batucada Sound Machine here take a major step up from their Rhythm and Rhyme album of three years ago for this sonic implosion where a rock group, a big band and world music rhythms collide at the intersection of funk and jazz.
With horn parts which reference Afro-Cuban, Afrobeat, South American and Bootsy/James Brown sounds, this one can do a melodic donut spin which keeps you on your feet and moving.
My Heart He Say, for example, starts on a rolling-boil groove and saxes like classic Fela Anikulapo Kuti but by the time the guitars come in we seem to have effortlessly slid sideways (through some juju inflections) into Santana territory, and then a funky coda out of Parliament territory. And it is a seamless segue all the way.
And on the smooth-groove ballad The Best For You (beautifully produced with a natty echo on Richard Setford's vocals which hint at seminal Salmonella Dub) comes over complex but crisp rubbish bin-like percussion. Another standout.
Ae Ae up early is in Portuguese (I think, by Henrique Morales) with a rap section by Paaka Davis), and the backdrop of Don't Keep Silent is an acosutic guitar part.
This kind of musical diversity isn't easy to pull off successfully (it can be done, but can often seem clumsy and cobbled together) but here they confidently let Brazilian Morales take the front for three songs just after the album's centre, Naquela Estrada, the party-down Un Poquito and riddum-shiftin' Triago mi Sonido.
Sometimes the lyrics reach for more than they can grasp: "We kinetic mind, dancing out of time, this could break the system, ancient druid's wisdom, hear the people coming, man this place is humming, damn your indecision, this ain't no work of fiction . . ."
But the final track Scars -- a brooding, poetically political piece -- points to yet another direction which is within their grasp.
When they first started in the middle of the last decade BSM were a Womad crowd-pleaser with their energetic funky style, but that didn't always translate well for more considered listening.
With this album they have kept that energy high where required but deliver something much more thoughtful, deeper and musically interesting.
Like the sound of this? Then check out this.