Graham Reid | | <1 min read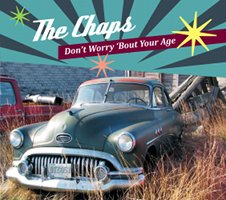 Selected as one of the three finalists in folk category at the 2012 New Zealand Music Awards, this album finds Dunedin four-piece the Chaps -- average somewhere early 60s at a guess -- doing exactly what they do best: playing unashamedly self-deprecating songs (the title track especially) and thought-provoking lyrics in the bluegrass-folk-country-meets-swing territory.
So here are songs about the perils of getting sun-burned (Do It in the Shade), derelict politicians (We Can't Depend on You Anymore with a chicken-scratch rhythm), physical deficiencies (the old Fats Waller hit Your Feets Too Big) and smooth talkers (Ain't That the Truth).
But they also take on the old Supremes/Holland-Dozier-Holland hit Come See About Me and Ray Charles' hit Mess Around (written by Ahmet Ertegun) which they effectively make over in their own image. And dobro player Hyram Ballards' She's Good (But She Ain't You) and mandolin player Marcus Turner's Fire That You Set are newly minted, sentimental country classics.
So it isn't all witticisms about aging or the foibles of people, and although this won't be to your taste if you prefer alt.country (not to mention rock), you can hear why they have made the awards shortlist -- and that they must be a lot of fun in your local pub.
Like the sound of this? Then check out this.