Graham Reid | | 2 min read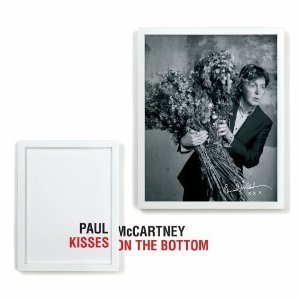 The distance of time allows us an even more objective view of the Beatles' remarkable and singular career, and the diversity of their songwriting.
It is hard to imagine a pop band (She Loves You) would go on to write some of the most self-contained psychedelic pop (Strawberry Fields Forever), let alone a band which would write serious music (Eleanor Rigby) would also do children's songs (Yellow Submarine, All Together Now) and almost single handedly invent heavy metal in '68 (Helter Skelter).
If Lennon often looked inside himself (Help, In My Life) and at his surroundings (Being for the Benefit of Mr Kite drawn from words on a poster, Lucy in the Sky with Diamnds from a picture his son drew), McCartney was almost nostalgic in that he looked back to the musical styles he grew up on, like the music hall tradition for When I'm 64 and Maxwell's SIlver Hammer.
So when solo Lennon did his look-back album it was only as far as to songs by Little Richard, Buddy Holly, Larry Wiliams and others of his teenage years (for Rock'n'Roll in '75).
It is no surprise that for this look-back album, McCartney goes even further, to those songs he heard as a kid and which were doubtless played by his parents. Just as Ringo did with Sentimental Journey (in '70), McCartney goes to that songbook of music which includes Accentuate the Positive, Bye Bye Blackbird, The Glory of Love and other standards.
The Fats Waller song I'm Gonna Sit Right Down and Write Myself a Letter contains the line which gives the album its title. And Waller pops up again on the sprightly My Very Good Friend The Milkman.
And this being McCartney, he can call on the best to play on this easy listening but very pleasant collection. Here are Diana Krall and her band, producer Tommy LiPuma, Eric Clapton (notably on Get Yourself Another Fool where he brings a bluesy and warm refinement), Stevie Wonder and others. And some of it was recorded in the famous Capitol Studios in Los Angeles. *
The sole originals, the gentle My Valentine (which sounds like a newly minted jazz ballad standard) and Only Our Hearts fit in seamlessly alongside pieces like the beautifully orchestrated Always.
McCartney has a fine sense of timing (listen to his slow, behind the beat treatment of Bye Bye Blackbird) and the quiver of age which is in his voice (he will be 70 in June) actually suits some of these frequently wistful lyrics about the passing of love, memories and past hurts.
None of this is remotely relevant to anything in contemporary music, his own pop career or even has much in common with similarly conceived projects like Rod Stewart exploring the Great American Songbook.
Some might say this is a vanity project (Ringo's excuse was that he did Sentimental Journey for his mum) and that may be so.
It is however, undeniably pleasant, beautifully crafted and arranged, his two new songs (there is a third on an expanded edition) are genuinely lovely ballads -- I guess the new wife got her song in My Valentine -- and as a sentimental journey it is . . . intimate and quite nice.
This is late night listening for downtime, and more specifically perhaps, one for aging baby boomers who may also have grown up hearing these songs at mother's knee.
* Since writing this review off a stream, I have received a copy of the finished album so need to say that expat New Zealander (and Grammy winner) Alan Broadbent conducts the London Symphony Orchestra on My Valentine, Home, Bye Bye Blacbird, Always and Get Yourself Another Fool . . . also also delivered some of the arrangements. Shoulda guessed, he's been Krall's longtime arranger.
For an overview of McCartney's extensive career, decade by decade from 1970, start here.