Graham Reid | | 1 min read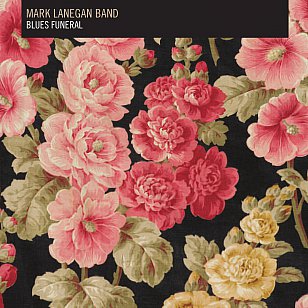 As with Nick Cave, Mark Langean knows the idiom that suits his mood and voice best . . . and it is a similarly dark place, as the title of this deeply impressive album suggets.
But Lanegan -- who has appeared in these pages on albums by the Queens of the Stone Age, Gutter Twins, Soulsavers and others (see here) -- knows how to mix up the misery and gothic imagery in music which has a thrilling forward momentum (the opener Gravedigger's Song), slightly trippy alt.pop (Gray Goes Black which opens "Please don't turn off my radio, not while the rope's still swinging") and gloom soaked ballads (St Louis Elegy with his Twilight Singers pal Greg Dulli, the emotionally striking and melodic Harborview Hospital and Deep Black Vanishing Train).
And of course there are variants on ancient blues (the menacingly slow Bleeding Muddy Water which hauls itself from the black swamp, the crunching Riot in my House, the appropriately entitled Phantasmagoria Blues).
But Lanegan also mixes the sonic pot by bringing in electronica for songs which sound like they come from a Goth dance club in the Midlands (Ode to Sad Disco which owes a nod to Bauhaus) and material which seems to have escaped from a decent U2 album (Quiver Syndrome with its Edge-like guitar backdrop).
This is an album of hellhounds riding, black light and smoke, blood and tears, and of contained emotion . . . although they let themselves stretch on the closer, the seven minute, relentlessly ominous Tiny Grain of Truth.
Lanegan gets some discreet but stellar assistance here (Josh Homme, Dulli, Chris Goss, numerous guitarists) but this is very much his own vision. The unsettling electronic touches and disturbing guitar effects just add that extra frisson of fright and menace to his glowering but melodic vocals.
This is, as the signs warn, "a dark ride".
Mark Lanegan answers the Famous Elsewhere Questionnaire here. Sort of.