Graham Reid | | <1 min read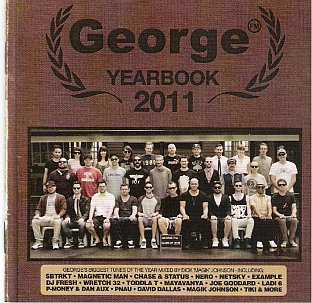 Although I was once corrected in print by a programmer when I said radio was about music (he, astonishingly, said in a letter to the newspaper that I was wrong, radio was about advertising!) it is encouraging to know some stations still put music before cheap promotional stunts.
What is always surprising is that not more music stations put out compilation albums, such as this from the folk at George FM in Auckland, which pulls together an impressive and enormously enjoyable selection of local and international dance acts mixed into a seamless flow by Dick "Magik" Johnson.
This collection -- 20 tracks which open with Ladi6's Like Water, moves through Joe Goddard/Valentina's memorable Gabriel, P-Money and Dan Aux's Kinda Lovin', Sbtrkt's Pharoahs and on to Come Fly With Me at the end by Tiki Taane and Sambora -- is one of those albums which is, in my experience, user-friendly in that it can provide the soundtrack to late-summer barbecues or makes a snug fit into the car stereo.
Nicely packaged like a school year book (Nick D does the "Principal's Report" and there's a class photo of the station's DJs who elsewhere pick their top 10 tracks of 2011), this is a compilation with a keen guiding intelligence and a flowing swathe of great beat-driven music which also won't be controversial when you are pushing sausages on hot plate.
Nice one.
A music station about music? Got to be a good thing.
Like the sound of this? Then check out this.