Graham Reid | | 1 min read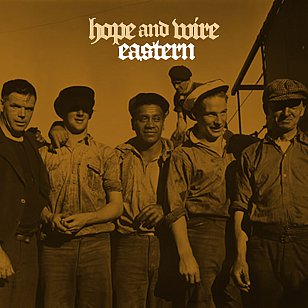 The self-titled 09 debut and Arrows ('10) by this Christchurch band alerted many to their poetic, political and bare-knuckle country-influenced songs which sit alongside Springsteen's working class balladry, the rambunctious Pogues, whisky-voiced Steve Earle, pub rocking Dr Feelgood and Cold Chisel's open-road truths.
Their range is given full rein on this ambitious but exceptional double disc recorded in an abandoned house in 'quake damaged Christchurch.
There are fiddle-coloured songs here reflecting that tragedy (the aching ballad Town Like Here, the title track) but writers Adam McGrath and Jess Shanks offer subtle takes rather than going for cheap, obvious sentiment.
But when it comes to the politics of mining and off-shore drilling they pull no punches ("maybe we'll burn the Beehive baby . . . cut the fat right from their bones, feed it to the poor" on the gutsy Gone).
The Eastern use local idioms and issues so although you can hear influences, they are never less than distinctively ours – Flora Knight and Charlotte Ivey adding vocal sweetness or melancholy as required – as they write of tough lives on the margins; drinking to remember and forget; the evils of loggers of native timber and auto-tune singers; of outsider culture and the dignity of those struggling.
Musically they are rootsy in the broadest possible definition: they reach to earthy rural and urban blues, that British edition of it in the Sixties, across to banjo-driven alt.country and Irish-influenced country-rock.
This is moving music at a gut and heart level, and when they address what hits them hardest it is impossible not to be moved. The boy in Town Like Here lamenting the loss of friends in that quake and singing "to be 16 and drunk in a town like here" is the cry of one who was left behind and doesn't know why.
Here too in State Houses by the River are the questions and doubts: "Some things are clear to me, some things will never be" and "I may be way too tired to quit but it ain't the same to quit." And the delivered over a mournful scrape of fiddle as the clouds roll in and the ground starts rolling again.
These are real lives and concerns being laid bare, people with the deep fears but also a grip on life that won't let go. And you can only stay down for so long without wanting to kick out the blues with family and friends and probably a bit too much to drink.
Hope and Wire is romantic and rollicking, speaks from the heart -- often urban and not some clichéd "heartland" – and comes in a pointed cover.
The Eastern's Adam McGrath answers the Famous Elsewhere Questionnaire here.