Graham Reid | | 2 min read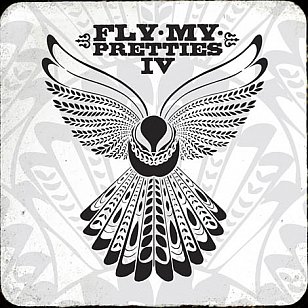 Less a band in the traditional sense and more an umbrella organisation which allows for members of the collective to shine, Fly My Pretties have also taken their own route into the hearts of New Zealand audiences.
As with Split Enz all those decades ago, FMP avoid the indignity of boozed-up pub crowds and prefer to play theatre settings where not only do people listen but they can also offer the best in light shows and visual enhancements.
And that is seen in the exceptional DVD here which accompanies the stand alone CD.
Beautifully shot by multiple cameras in various venues, it has been edited together in a way which takes you up close but also allows for a sense of the broader ambience. And there is post-production to further embellish the images with tie-in artwork, notably visual references to birds and Kiwiana like old stamps. Very clever and the result is a film in its own right with insert title sequences before each song.
There are plenty of groove-riding songs here in their meltdown of gentle psychedelic funk and soul, r'n'b and rock. But there are many highpoints away from that action, especially when singers LA Mitchell, Amiria Grenell, Flip Grater and Anna Coddington (whose excellent Underneath the Stars is a real repeat-play entry) step to the fore.
Mitchell's pairing of funky soul (You Now Know, which looks terrific on the DVD with the overlays and colourful framing) and gospel-infuenced folk-pop (Apple Heart) are early highlights but it is the quiet, violin-enhanced folk of Three Feathers by Grenell (the fast rising star in the local cosmos?) which catches your breath. The old trick of speaking quietly when everyone else is shouting still works as an attention-getter.
She's slightly less effective on the blues of Fallen From You which demanded a more gutteral vocal, but that hardly matters in the grand sweep here.
Flip Grater delivers one of the finest vocals of her career on the dreamily lovelorn I Am Gone, and Justin Firefly Clarke's equally drifting folk on Please which follows is the perfect sequel at the midpoint . . . before the more urgent guitar/banjo folk of Barnaby Weir's Journey's End picks up the tempo and brings deeper voices to the front.
Prowse bring a little contemporary folkadelic magic on Space Cadet, as does Age Pryor with Folding Over (which harks back to an earlier period), Fran Kora's soulful but slightly eerie arrangement on Am I Gonna Make It is a late high point and the large band get together for the double-whammy finale, the blazing and rockist Ode to the World with Aaron Tokona as ringmaster then everyone on for the party-out Turnaround.
There is some exceptional and disciplined playing throughout -- you can't ignore guitarist/singers Ryan Prebble (out front for Hit the Hay) or co-conceptualist Barnaby Weir (with Mikee Tucker), or the revolving rhythm sections of bassists Mike Fabulous and Fran Kora with drummers Jarney Murphy and Iraia Whakamoe -- and this is where the collective also shines. In the mix and match to what is happening up front.
The CD is of the same songs but, as with Split Enz, much of this is music you just have to see. And on the frequently mesmersing DVD (directed and edited by Olivier Jean) you can.
Hats off to Fly My Pretties. Again.