Graham Reid | | 1 min read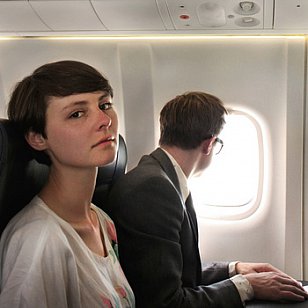 In one of the most engaging, seemingly simple but quietly resonant and loaded covers on any local album in recent years, comes this delightful collection by Anthonie Tonnon (aka Tono) and the flexible line-up of the Finance Company.
Tono impressed hugely with his artful and observant EP Fragile Things in 2010, and those gifts for a memorable melody hitched to fascinating, often almost conversational, lyrics is again on display.
Here the cadences of speech are as important as what is being said, which means these songs pull you in to the singer's orbit.
The ambling pop of Susan starts, "Susan you are beautiful, you're not real, I made you up. You live in Grey Lynn because that's where the song begins. You have red hair and a tan and the man who just left you is also hypothetical, but that doesn't excuse him for sleeping with his students . . ."
Huh?
But you are given a lot of information and you hang in for more ("your friends say you are the cheater . . ") as you do on the quiet pop of Tim where the singer tells of going to art opening ("where there's wine and sometimes cheese") before it opens out into something much darker and poetic ("the wind has lullabies on its breath").
And the ballad of broken dreams Eating Biscuits kicks in with "It could have been different, we could have run from the graduate programme and given it a real go . . ." and is a middle class conservative looking back at what might have been from a Lazy Boy rocker and wishing there could have been more drama and excitement. It is a sympathetic portrait, made more so by Tono's downbeat delivery.
The opener Multiple Lives bring to mind a suburban Morrissey looking at the changes in his life ("I'm 17, I'm too old to learn how to touch type . . . or try to like beetroot in the sandwich") and Timing is like Lloyd Cole beating himself up over lost opportunities.

Ordinary lives and the attraction of the mundane are the cornerstones here, twentysomethings with tertiary education are source material, Foodtown and real estate agents are part of this closely observed world, and "23 is the hardest age to be" because it is old enough not to feel invincible anymore but not enough to be wise.
Yes, the angst of the ordinary -- like owing a student loan.
Some will find this a bit too clever for its own good -- too wordy perhaps, the title track less than engaging, too much the sad sack persona -- but here are 10 thought-provoking songs in 31 minutes: economic repeat-play for sure.
This album is available from here.
Tono and the Finance Company tour dates
Apr 20

Whanganui, New Zealand

Apr 21

Wellington, New Zealand

Apr 28

Auckland, New Zealand

May 04

Christchurch, New Zealand

May 05

Dunedin, New Zealand