Graham Reid | | 1 min read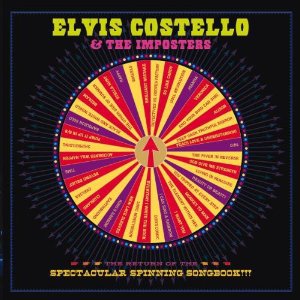 Some albums you really just have to see, and this is one of those.
Some background: Elvis Costello and the Imposters took to the road in the US last year with a few dozen of his song on a spinning wheel and with a quick turn and a dart . . .
You get the picture.
It's obviously a lot of fun on the night and no one is cruising. Costello and band play like their lives depend on it for some of the material -- which goes right back to Mystery Dance off his debut album to more recent material.
The 16 songs here -- with guest Susanna Hoffs on Tear Off Your Own Head -- were taken from a two-night stand at the beautiful old Wiltern Theatre in Los Angeles.
It's a fascinating cross-section of his material -- a flat-tack Radio Radio and an extended Watching the Detectives through Every Day I Write the Book, Man Out of Time from the great Imperial Bedroom to National Ransom and ending with Nick Lowe's What's So Funny 'Bout Peace Love and Understand. And the Stones' Out of Time.
But unless you are Costello completist, you are left with the feeling you really had to be there. Or be able to see it somehow . . .
And as it happens there is also a CD?DVD edition of this. If Costello is your man that is that is the way to go. But the single disc?
Can't really see it, myself.
There is a lot more on Elvis Costello at Elsewhere, starting here.