Graham Reid | | 1 min read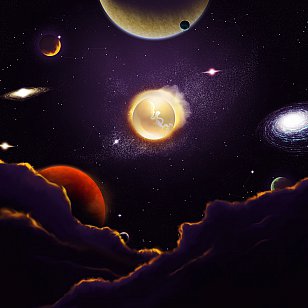 Calling all occupants of interplanetary craft, here's your soundtrack for space travel.
Factories out of Christchurch (Matt Ragg and Sean Bennetts) appear to have strapped themselves into the studio and been fed a diet of astral-plane space rock, mind altering psychedelics, early Pink Floyd, the film 2001, A Space Odyssey, Amorphous Androgynous, Battles, Can, Tortoise . . .
And then they set their controls for the heart of the sun, or somewhere further beyond.
From the 14 minute title track which opens this -- full throttle guitar thrust and liftoff via synths -- this really is one of those "smoke 'em if you 'em" albums of woozy and slightly unsettling psychedelic rock (think weightless David Gilmour guitar solos).
Gently clattering percussive noise drives the annoyingly minimalist but addictive Chlorophyll, and Nazi Spies in America is what happens when your space shuttle hits a glitch and someone sends techno-funk boffins from Kraftwerk's studio in to do repairs to the on-board disco sound system but they cross wires with a hard rock station at some point.
Corsica II seems to be the acoustic guitar pill you take to come down to a warm field on Planet Earth, and the reprise at the end finds you lying in that sunny spot watching the rocket's red glare again.
Yep, it's a Seventies prog-rock trip, however you cut it.
There are no plans for a physical release of this album (pity, it deserves vinyl and a gatefold sleeve) but it is available through iTunes and Monkey Records here. And it is ridiculously cheap!
Like the sound of this? Then check out this.