Graham Reid | | 1 min read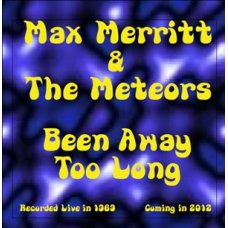 The excavation of New Zealand's musical history continues with this album, even though proto-rock'n'roll star Merritt from Christchurch had shifted to Australia and by 1969 -- when this 41 minute set was recorded at a Melbourne "club" -- was powering out r'n'b' touched with some ripping jazz licks (by saxophonist Bob Bertles).
Merritt had been the next major star to emerge after Johnny Devlin but the brighter lights and opportunities in Australia beckoned, and his music inevitably changed.
He also had a tough, soulful voice so the 10 minute Otis Redding medley at the end here -- You Got Me Hummin'/Fa Fa Fa/Try a Little Tenderness and the Stones' Satisfaction -- was certainly within his grasp.
What is most unexpected in a 10 minute workout on Dizzy Gillespie's Kush where Bertles (who became a mainstay of Australian jazz) really brings it home.
So this is rock'n'roll (Larry Williams' Louisiana Ana), rock (his original title track), soul (the Otis, and Western Union Man which became an Australian hit) and jazz-rock stirred into the pot at Ashwood High in Melbourne's south east.
Merritt was coming back after a brutal car accident 18 months previous which cost him an eye and had a small but punchy band with Dave Russell on bass (who later co-produced Split Enz' Mental Notes), drummer Stewie Speer (who died in '86 aged 58) and Bertles (also on flute and vocals).

Material here like Don Covay's r'n'b stomper Gonna Send You Back (who also wrote Chain of Fools) have a raw and earthy feel, but then the supple and slinky Kush pushes into a very different direction (jazz flute, drum solo, out-jazzing Jethro Tull) and you get a whiff of their musical capabilities and curiosity, which may have outstripped that of their audience.
The sound isn't, of course, absolute top quality but what it lacks in breadth it makes up for in sweaty energy. As a snapshot of what this band sounded like in '69, it is quite remarkable.
That it exists all -- a tape in storage for more than 40 years -- is something of a minor miracle.