Graham Reid | | 1 min read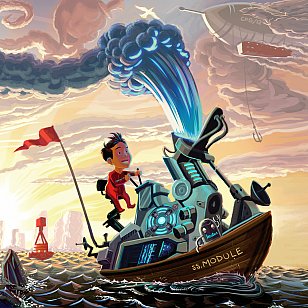 The recent release of the Loop label compilation album Winter -- downbeat'n'drifting electronica mood pieces for these snuggle-down colder days -- draws attention to this previously released album by Module (Jeramiah Ross). His gentle piece Reflections Scatter was the perfect opener for that compilation.
Although that sleepy piece is here, after the equally astral-ambient Eno/Cluster/Harmonia-like opener A Glass Star, the overall mood is rather more uptempo (but only just) and puts it slightly closer to the most refined Jean Michel Jarre or Air (who seem the most obvious close cousins).
And on Tears for ASIMO (described as "feeling sad for the robot") the pointillistic guitar-sounding part has echoes of Andreas Vollenweider (for those who remember his New Age suites of electric harp).
Ross/Module is a man who hears with his eyes also -- his soundtrack for the Playstation 3 game Shatter won numerous international awards -- so many of these pieces (unlike the often deliberately shapeless ambience of some electronica) suggest mini-films: Sunrise Andromeda evokes dawn rising on a distant and lifeless planet; Stargazer Valley is perhaps dusk in the same place; A City of Shadows evokes a curiously European urban scene; Nantai San Sky is described as "a sonic photograph from Japan" . . .
I suspect some of these pieces have found, or will find, other homes than just here and because of the variety (the urgent Endlessly Ocean jars between City of Shadows and the spare, thoughtful The World Spins Without You) this is perhaps less coherent and consistent than it might have been.
But there are mood pieces aplenty if his contribution to Winter won you over (as it should have).
He's a clever cookie is Mr Module and he worked on this excellent project!
He's got an impressive CV and in places this album sounds like an aural buiness card.