Graham Reid | | <1 min read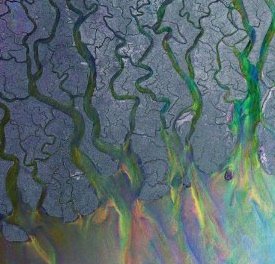 These days genre-ignoring bands are so common they require no introduction or explanation.
But few are as provocative as Alt-J out of Cambridge, England who pull together slivers of Anglo-folk with hip-hop beats (like sons of the Beta Band), electronica ideas rendered acoustically, electro-blip from recent Radiohead, a cappella harmonies and angular pop of the romantic Belle and Sebastian-go-prog kind.
On paper that shouldn't work but when they nail the pop end (Matilda, Breezeblocks, the choral-inclined Ms) or get weirdly gritty (the downplayed but strange prog-pop of the twanging and sexually graphic Fitzpleasure) this really connects the dots. And Blood Flood pulls the threads together in one place.
Unsurprisingly this literate, conceptually-inclined band (lyrics linking across songs, lovely origami CD sleeve) met at university: there's intellect rather than gut instinct on songs like Tesselate and the conceit of an Intro and three inconsequential Interlude pieces which is a bit precious.
The Fleet Foxes-familiar closer Taro/Handmade – annoying with the hidden bit five minutes after the first part ends – shows while this is a slightly flawed confection they sound primed to be the Next Indie.Cult Thing to go middle-sized, if not bigger.
Like the sound of this? Then check out this.