Graham Reid | | 1 min read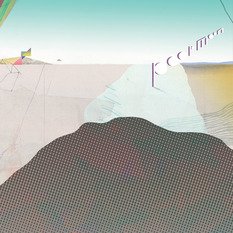 When Phantom Light, the second track on this debut album for Poor Moon, opens you'd be forgiven for saying aloud, "Oh, Fleet Foxes".
And indeed Christian Wargo and Casey Wescott -- half of Poor Moon, add to them brothers Ian and Peter Murray -- are both members of that band.
There are plenty of the FF's Anglofolk and close harmonies at work throughout, although the arrangements are not quite as complex (in places that is a good thing) and their clever use of harpsichord and zither alongside guitars also comes with a general lightness of touch.
If Fleet Foxes often have a winter chill about them, Poor Moon are more summery and sunshine, as on the breezy and escapist Holiday. And on the gently trippy What We're Waiting For you can imagine a lost Brian Wilson session with the Beatles in early '67 just before the psychedelia got really serious.
In fact, the overall impression here is of such references (and Left Banke, Sagittarius, Emitt Rhodes and others along the embellished-pop axis) as much as the Fleet Foxes (oh, there they are again on Come Home).
It isn't all fields of flowers however and the rather silly Heaven's Door is about the final judgment and paying the price for sin, as if sung by the Association or Spanky and Our Gang from the Sixties. Not their finest moment.
When it comes to dealing with death their more simple Birds is considerably better for its heartfelt simplicity. Probably going to be the funeral song for doomed indie kids.
But mostly this is warm and reassuring, and the sun showers scattered around pass quickly in favour of gently realised baroque pop . . . with vocal harmonies of course.
A minor album but . . . nice.
Like the sound of this? Then check out this.