Graham Reid | | <1 min read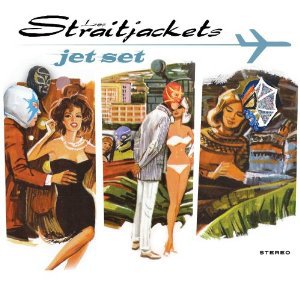 With guitarist Peter Posa's White Rabbit retrospective topping the charts for the fourth week, this collection of echo-heavy cocktail hour and retro-rock guitar tracks by this long-running American cult outfit (in Mexican wrestling masks) might just have the serendipity of timing.
From the dramatic blackjack crack and pistol shot of the opener Crime Scene and the increasingly furious 60s Beatpop of Yeah Yeah Yeah, through the delightfully cool Aerostar (which cries out for lyric), slinky guitar-noir Brooklyn Slide, the Ventures-on-heat Bobsleddin' and Space Mosquito (pure Posa) to the unexpectedly gritty Mr Pink and the weepy blue ballad Fur Sophia these 15 strum'n'twang songs sound in search of an Austin Powers or Tarantino movie to call their own.
There is hardly a thing here which hasn't been done before by Sixties groups like the Shadows and Ventures or more recently by Bonde do Role or the Israeli surf-rock outfit Boom Pam, but that hardly matters.
This is an album which invites smirks of recognition and, for those too young to know of Peter Posa, maybe just a hip soundtrack to dressing up before going to retro shops to find a genuine Pan Am cabin bag or a night on the town.
Like the sound of this? THen check out this.