Graham Reid | | 1 min read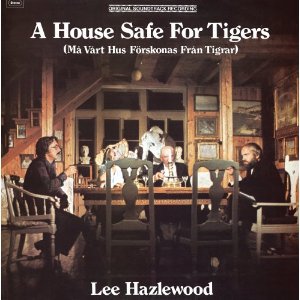 Following the release of the collection The LHI Years; Singles, Nudes and Backsides, comes this reissue of a film soundtrack, a film which by every account was pretty bizarre.
Filmed on the Swedish island of Gotland in '74 -- four years after Hazlewood had moved to the country so his son could avoid the US military draft -- it is considered a "semi-documentary" at best and Hazlewood admitted it was "strange, very strange. But we meant it to be strange".
The "we" is American singer-songwriter Hazlewood and Swedish director Torbjorn Axelman with whom Hazlewood made a number of such films. The main town on the island is Visby and the producer and arranger Mats Olsson said "as far as I know, the film didn't reach any further than Visby".
You wanna talk cult movie?
No matter, here is the dramatically orchestrated soundtrack of songs by whisky-barrel Hazlewood being almost whimsical on the title track and in spoken word mode in a couple of places: the kitschy and sentimental Our Little Boy Blue which would be considered a psyched-out oddity if it had come from Syd Barrett or Napoleon XIV; and a mad, shaggy dog tale on Sand Hill Anna and the Russian Mouse.
There's a typical mythological piece (white woman and a "Red Man") on The Nights. Interesting but hardly an essential Hazlewood piece.
There's an emotionally dramatic instrumental (Absent Friends), an instrumental Bond-like theme with percussion and soul funk guitars (Las Vegas) and the title track gets a reprise by a choir.
So this is not a Hazlewood lost classic (far from it) but one piece does stand out.
On the gorgeous Souls Island opener (which gets reprised with a narration in flat-tack Swedish by Axelman later) Hazlewood -- who often came off like a gunslinger Leonard Cohen or a man who'd spent too much time at the bottom of a bottle reading the Bible or Greek mythology -- sounds at rest and at peace with himself, and the feeling is infectious.