Graham Reid | | 1 min read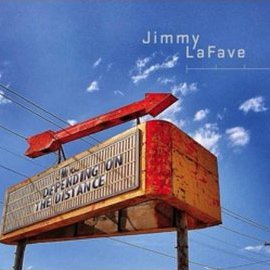 It has been five years since Texas singer-songwriter (and foremost Dylan interpreter) LaFave's much recommended Cimarron Manifesto. Too long for those of us who immerse ourselves in his emotional, cracked and intelligent delivery of lyrics which cut to the heart of relationships (intact or broken) or conjure up the mythic.
The latter is evoked on his stark treatment of Dylan's Red River Shore here, and again on Springsteen's Land of Hope and Dreams where he pulls away the original arrangement and focuses on the lyrics and the meaning behind them.
For John Waite's 1984 chart-topper Missing You he enhances the ache at the heart of the song and reframes it as deeply felt country rocker.
LaFave has often gone for lesser known Dylan songs -- here he unearths I'll Remember You from the much disparaged Empire Burlesque and brings it to life in bone-bare lines like "roses they fade and when I'm in the shade I will remember you". But he also includes a lovely and painstakingly slow version of the much covered Tomorrow is a Long Time.
Elsewhere of course are his equally crafted originals, the opener Clear Blue Sky a gentle love song which sounds steeped in genuine affection (enhanced by the delightful arrangement for piano), as does Living in Your Light.
Tellingly he follows the Springsteen with his own It Just Is Not Right, a tribute to those who have fallen by the wayside and whom we turn away from, a there-but-for-fortune rumination and pointedly aimed at "those who turn their beliefs into hate".
It isn't all emotionally affecting balladry, on Bring Back the Trains he rocks up a bit with Eliza Gilkyson, and Talk To Me sounds like a dialed-down Tom Petty song and a plea for forgiveness for a mistake made.
And he closes with another glacially slow, subtle ballad A Place I Have Left Behind.
LaFave's voice hasn't changed much since he emerged in the late Eighties and it possesses a rare vulnerability.
If he has somehow gone past you, this -- at night, maybe even alone -- will convince you that here is a sympathetic fellow traveler on the dark highway of love, losses and the belief that tomorrow could be a brighter day.
Like the sound of this? Then check out this.