Graham Reid | | <1 min read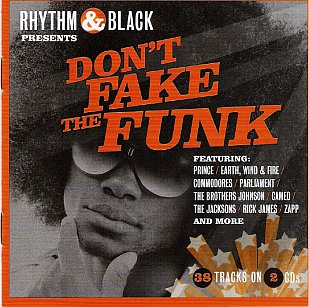 There are some people whose knowledge of black music -- old school r'n'b, soul and funk in particular -- is so deep and wide as to be unimpeachable and impeccable.
One such person is Murray Cammick, the former editor of Rip It Up, so when you see the liner notes to this locally compiled double CD set are penned him you stand back and bow deeply in his direction.
He da man.
And here da funk: Earth Wind and Fire (Fantasy), the Brothers Johnson getting slightly trippy on Strawberry Letter 23, Rick James putting the toke into funk with Bustin' Out on Funk, Parliament's Tear the Roof off the Sucker, Sly's Family Affair, the relentless get-down injunction of Kool and the Gang on Jungle Boogie . . .
And that's only half of the first disc.
Elsewhere here are Heatwave, the Isley Brothers (their seminal Fight the Power Part 1), Phoebe Snow (Shakey Ground of course), the Bar-Kays, Chic, Prince (Controversy), Prince Charles and the City Beat Band, Zapp, Cameo, Sister Sledge, SOS Band, Luther Vandross, the Jacksons (Can You Geel It), Kurtis Blow's The Breaks . . .
A couple of hours of classic and side-alley funk -- pulled together by Scott Morrison of Sony who negotiated the minefield of licensing deals -- and sometimes from names which have passed from public consciousness.
The party starts here.
For other variants of funk -- from street to country -- see here.