Graham Reid | | 1 min read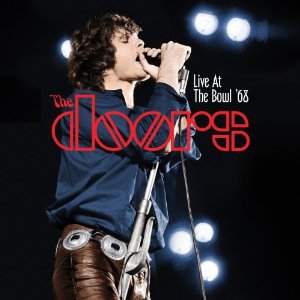 Anyone charting the career trajectory of the Doors would doubtless have it as a rapidly rising inverted V with an equally sudden if rather more bumpy decline after the peak and perhaps a little leap up at the very end.
That peak was 1968 after their exceptional self-titled debut album and Strange Days and before the popular but less interesting Waiting for the Sun.
That last flicker was the return to form LA Woman.
In '68 the band was firing on all cylinders and Jim Morrison hadn't started his serious descent into booze-fueled self-destruction.
And mid '68, a week or so before the release of Waiting for the Sun, found them at the Hollywood Bowl for a much acclaimed show, a small part of which appeared as Live at the Hollywood Bowl album in '87.
That album fell a few minutes short of 25 but now -- with their longtime engineer Bruce Botkin (and LA Woman co-producer) producing and tweaking, because some of Morrison's vocals had to be patched in from earlier concerts -- we get a very good facsimile of the whole 65 minute concert (also available on DVD) which includes a 13 minute When the Music's Over and a 17 minute The End.
The band sound superb as drummer John Densmore comes in with his typically angular and unexpected punctuations, Robby Kreiger plays mercurial and fluid guitar and Ray Manzarek is either discreetly restrained or on fire at the organ.
Doors' fans have an almost insatiable appetite for things like this, but anyone wondering what all the fuss was about could do worse than pick up this set . . . which isn't quite what it says on the package, but about as close as it gets and captures the Doors at a particular peak.
The other side of that inverted V wasn't far away.