Graham Reid | | 1 min read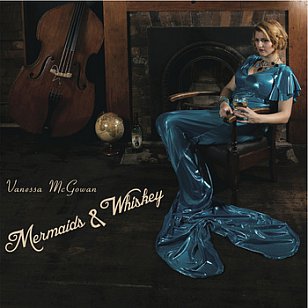 In a classy cover and under a tempting title comes this, the debut album under her own name for double bassist/singer-songwriter McGowan who was one half of the quietly acclaimed Her Make Believe Band alongside guitarist/singer Cy Winstanley, who also happens to be part of this small band (and with whom she now appears as the Tattletale Saints).
Recorded live in The Bunker on Auckland's North Shore in May 2012, these six songs show a slight shift in direction, the title-track opener being more in the vein of country music than the folk-cum-pop which was a hallmark of her previous outfit. This might make sense given she and Winstanley are going to Nashville to record in the next few months.
But that is the weakest song here -- in places it doesn't quite scan, the lyrics are forced around the melody and it treads highly familiar territory -- but what follows is much more interesting.
With Jessica Hindin's violin adding a slightly European jazz colour, New Familiar Town cleverly links the journey to these remote islands with the great westward migration in the US and pays subtle tribute to pioneers, weatherboard houses and Christmas in summertime as people built a new life. The song has a plangent tone.
And the ballad Foreign Body is a standout -- "kissing him is strange, his lips don't taste like yours . . . it's a foreign body laying in my arms" -- which declares "it's not about love tonight". A sentiment which might play well in Nashville.
Elsewhere -- over the ticking banjo of BB Bowness -- McGowan leans back on folk-pop (with a smidgen of alt.folk) for the yearning Sing a Song, and her jazz background sneaks into the subtle sway of I Could Cry.
These are songs which should play well in singer-songwriter nights in Nashville if she can break into them, but they would struggle in other settings (bars, bigger rooms than The Bunker).
As a calling card this is patchy but promising, although the catchiness of Her Make Believe Band seems to have been set aside here . . . and that seems a shame.
Mermaids and Whiskey is available from here.