Graham Reid | | 2 min read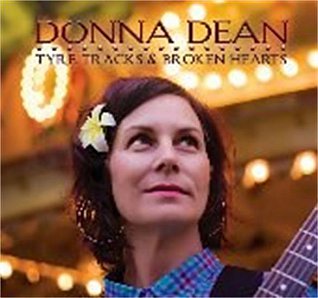 While the title of this album might look like an easy and reflexive nod to earthy country music and it's brokedown traditions, you need only flick straight to the second song Twister to be persuaded that New Zealand's Donna Dean is someone special.
She writes with the poetic economy of musicians like James McMurtry and Dolly Parton, and authors like Appalachia's Ron Rash, in that she can sketch in a story in a few words, or a phrase which resonantes.
"Why'd you do it John, take her life like that," she sings in an emotionally flat voice which is the hallmark of this album. But in spare images she has also already painted a vivid picture: "She was lying on a pillow of butter yellow lace, her golden hair all crimson, crushed across her face".
The narrative however plays out rather differently from a standard murder ballad when the singer/character of no defined age says, "I want my mother back".
In just this one song alone you can see why Donna Dean has won awards for her songwriting and country music album of the year accolades for her previous work.
And of course Dean here -- with some heavyweight guitar embellishments from American name-players like Lucinda Williams' former offsider Gurf Morlix, Albert Lee, Amos Garrett and Redd Volkaert -- sings "American" (as it were).
That is her idiom and natural home, so here we have Banjo Mac (co-written with Australian/Americana cornerstone Bill Chambers) where the kid "could hit a homerun to my grand-daddy's house" and the enjoyable fiddle-enhanced How About Texas eases towards Texas Swing with fiddle player Jane Clark (and namechecks Bob Will's Texas Playboys).
Across these 12 songs Dean redefines "world music" in a strange way: she is a Kiwi gal with Texas in heart, and not only knows that music but can write with astute, heartfelt credibility about lives both there and here.
Songs like Long Time Gone (about a widower refecting on a hand he can now no longer hold) and When It's Time to Leave (about a woman loose for a night tempted by an encounter in bar yet knowing the man and her children wait at home) are universal - and here given wonderful musical settings.
As noted, Dean delivers these exceoptionally crafted songs in what sometimes seems a curiously detached or emotionally distance voice. For the most part this really works in favour of these songs and lyrics, but every now and again (Crossroads which is about exactly that in our lives,) you wish for just a little more attachment and range. But stick around for the killer pay-off line.
That said, this is an album of songs which should find their way into the songbook of many, many American artists, and as a writer within the idiom she is out on her own. And here's a hat tip to producer/multi-instrumentalist John Egenes for keeping this right on target in his Dunedin studio, about as far from Texas as we might imagine.
Start with the second song Twister. I defy you not to be moved . . . and in for the duration.
You can find out more about Donna Dean and this album here.