Graham Reid | | <1 min read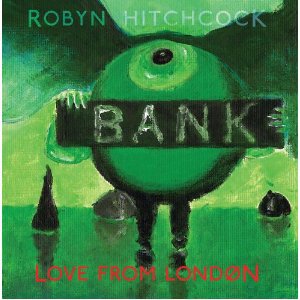 A quintessentially British songwriter in the same company as Ray Davies, the young Damon Albarn and Paul Weller, Hitchcock also possesses an English eccentricity. Few could pull off a song entitled I Want To Be An Anglepoise Lamp as he did for his first band the Soft Boys.
Now just turned 60 and still ignored by mainstream attention, he pares things back to crisply simple melodies delivered with a minimal embellishment (Lennon-like with a nod to the Rutles on the piano-propelled Stupefied) and his clearly enunciated vocals offer slightlydelic observations (the electro-trippy I Love You).
For every song oozing damaged beauty (the Syd Barrett-like Be Still, and Strawberry Dress) there's another twisting into the chaos of contemporary life and love (the mashing guitar menace of Fix You sounding closer to the Gallaghers).
And sometimes both aspects are drawn together (the lugubrious Harry's Song, the effortless Lennon-Brian Wilson style of Death and Love).
Hitchcock has done stronger albums (Ole! Tarantula and Goodnight Oslo, both with the Venus 3 which included REM's Peter Buck come to mind) and some songs here are Robyn-by-rote. But the best (the string-enhanced, six minute End of Time) are utterly persuasive.
A survivor, God bless 'im.
There is more on Robyn Hitchcock (and the Soft Boys) at Elsewhere starting here.