Graham Reid | | <1 min read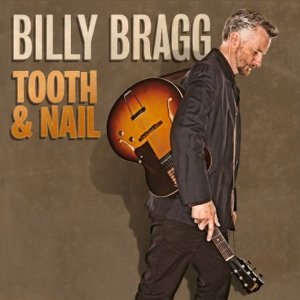 The self-described Big Nose From Barking has always dealt a lovely line in romantic but clear-eyed sentiment alongside his more obvious political songs. And sometimes the politics has been personal and vice-versa.
This album -- with a excellent small band, recorded by Joe Henry and following the death of Bragg's mother -- finds him in a mostly turned-down and reflective mood. The opener January Song mixes reflections of his mother ("tidy up the place for Monday when she's buried in her dancing shoes") with the political ("[the politician] ask him what he wants to be free from, answer don't make any sense") and sets the tone.
Bragg asks the big questions ("What if there's nothing? No big answers to find?" on No One Knows Nothing Anymore), expresses regret for indiscretions in love (Swallow MY Pride), links back to that tradition which runs from Guthrie to Springsteen (I Ain't Got No Home), and in a country mood offers that great Biblical homily as a path for understanding and cooperation between people (Do Unto Others).
There is also the heartbreakingly simple Goodbye Goodbye.
Bragg has always dealt in the personal but those clear eyes of former years are here slightly misting over and the album sounds the better for its pure emotional connection.
Quite something.
Like the sound of this? Then you should hear this.