Graham Reid | | 1 min read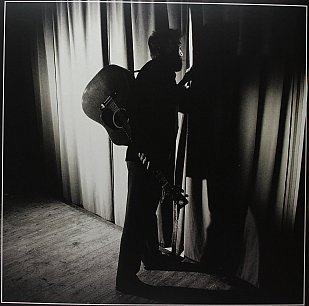 Good title and cover shot for the debut album from someone whose name usually follows the words "Produced by" on albums from Crowded House, Ryan Adams, Kings of Leon, Rufus Wainwright, Ray LaMontagne and other luminaries.
He's also the son of Glyn whose name followed "Produced by" on records by the Stones, Clapton, Led Zepp and the Who . . . and who is still active today.
So Ethan could have opened his contact book and delivered a star-heavy outing to attract attention.
But aside from the discreet presences of Bill Wyman, Adams and Laura Marling (who apparently encouraged him to go out under his own name after he'd toured with Emmylou Harris, Tom Jones, Adams and LaMontagne) this is a very lowkey and persuasive folk/Americana outing which would easily fit alongside albums by his more reserved clients.
A couple of notable pieces break with the mood: the strange Turning at the midpoint where odd sonic imports, off-kilter piano and disturbing undercurrents form the backdrop on a piece which might have come from Townes Van Zandt's songbook of melancholy; and Morning Blues which is John Lee Hooker's blues gone a little lite.
But the real surprise is the stomping Don't Reach Too Far which is a lo-fi garageband/Gloria workout with Adams playing primitive drums and bass, and a pop-blues harmonica part from Johns beamed in directly from '64. Lotta fun.
Ethan Johns may have been reluctant to step out front but as he says on Don't Reach Too Far, "I been a long time gone, but I made it".
Indeed he has.
Like the sound of this? Then check out this.