Graham Reid | | <1 min read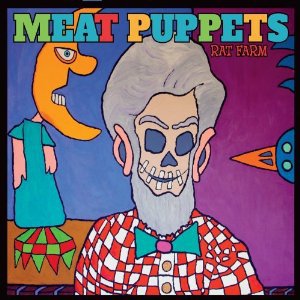 Although one of the great ignored bands of the 80s for their sun-baked but tough psychedelic-cum-country rock, Arizona's Meat Puppets only really got traction in the 90s after their appearance on Nirvana's MTV Unplugged session.
But it was all over quickly, guitarist Cris Kirkwood suffered severe drug problems, his bassist brother Curt relocated to Austin and their recording career became sporadic.
Lollipop two years ago showed some constraining of the psychedelics and this new one – which opens with the reggaefied title track – continues in the vein of country-grunge with fewer out-there guitar trips.
The good news is these mostly mid-tempo songs are tightly honed so the wistful Down, acoustic Waiting and slightly hokey country-rock of Sometimes Blue have a rare and engaging charm. The psychedelic guitar once to the fore is now woven through the step-changing Leave Your Head Alone, brittle pop of You Don't Know and metal-edged Sweet.
So less the thrilling Meat Puppets as they once were but another step in a reinvention where enough elements of the old remain (Curt's effortless and distinctive melodies, the sibling harmonies) but maturity, melodies and lyrics are more focused.
Still one of the great American bands with a back-catalogue waiting to be discovered.
For more on the earlier incarnation of the Meat Puppets see here.