Graham Reid | | 1 min read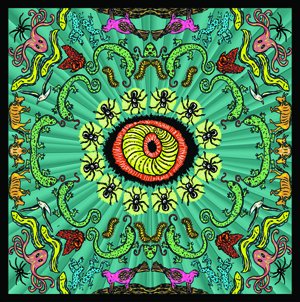 Heard from a distance this might sound like more alt.Ameriana folk with one ear on gospel hymns, and sometimes given a colouring of weepy steel guitars and old upright piano. And those ol' country harmonies.
But the wry lyrics here undercut most such notions as Rennie and Brett Sparks -- on their ninth studio -- explore the wonders and oddities of the natural world, so it comes off more like a strange wildlife doco set to music where the antics of octopi are enough to put Mr Sparks off going near the water or on any seashore holiday, and the darkly dramatic song Caterpillars comes with references to radiowaves from outer space and a kind of weird quasi-Spanish mood.
This is narrative wit so dry you should put the fire brigade on high alert.
The song titles are just proper nouns -- Flies, Frogs, Eels etc -- but these don't do service to the odd stories and images which unfurl, and as Mr Sparks' barrel-bottom baritone takes you through Glow Worm (with its unsettling sounds and strings) you are on a journey through a real and metaphorical underworld in the company of a rather disturbed and disturbing character.
And there is beguiling but sad beauty also (Gulls).
The Handsome Family have often explored a grand sweep of ideas -- their Last Days of Wonder comes unequivocally recommended as a celebration of the great mysteries of this world found in small things -- and this one is typically challenging, rewarding, amusing, puzzling, wry, serious and . . .
Inexplicably good.
Like the sound of this? THen check out this.