Graham Reid | | 1 min read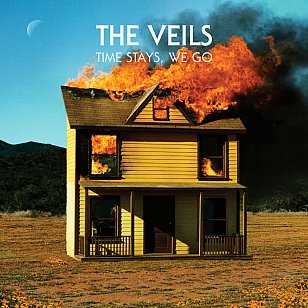 For my money Finn Andrews of the Veils wrote one the finest songs of the past five years with the exceptional Us Godless Teenagers on the 2011 EP Trouble of the Brain.
An insightful song of disillusionment about a generation so often dismissed, reviled or ignored, it never went for the mawkish or sentimental, it is a minor masterpiece of lyrical economy and came with an achingly heartfelt insight in his delivery. It's a song that makes you think again, more sympathetically, about the pains of being young.
The same Andrews however -- as in a number of places here -- holds the banner high for dramatic, bare-chest-to-the-storm songs of heroic dimensions which puts you in mind of Teardrop Explodes, Echo and the Bunnymen and other bands which placed themselves at the centre of an emotional maelstrom.
There are also some shadowy ballads (the beautifully produced Candy Apple Red), the cleverly understated acoustic broody pop of The Pearl, solidly crafter middleweights (Sign of Your Love) and the increasingly widescreen and upward momentum of Turn from the Rain. Any one of these could be repeat-play radio single without feeling compromised.
But its when Andrews puts on the lonesome poet cloak (Birds with its driving percussive quality) or the romantic but slightly jaded observer (Another Night on Earth) that he excels.
Less successfully, because its reference point is so current, is Dancing with the Tornado which peels off a very large slice of Nick Cave/Grinderman in imagery with a bit of Jack White thrown in. This is a hard area to be original in when Cave has so firmly staked it out and the Veils don't bring much by way of originality to it.
Right at the end in Out From The Valley And Into the Stars he revisits that low mood of Us Godless Teenagers, this time from what sounds like a slightly older perspective when the dreams have turned to disappointment. It doesn't have the pathos of its ancestor but again proves just what an insightful writer Andrews is.
Add that to a band which is locked in, arrangements which are sympathetic and sensitive to the moods and you have an album which confirms what Elsewhere said on the occasion of that EP, "one of the finest bands working out there at the moment".
Early copies of this album come with a low-key five song disc recorded in one day at Abbey Road, four of the album tracks n more stark versions and a new song, the minimal and affecting solo outing Summer and Stone. Worth getting for this apparently incomplete track alone.