Graham Reid | | 1 min read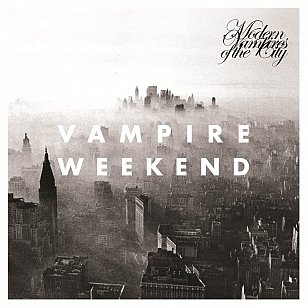 Vampire Weekend are one of the cleverest American bands of the moment, and for many that won't be a compliment. They are smart and knowing, and that meant on their last album Contra they shaved of a bit of Afrobeat and Paul Simon's Graceland as they expanded their musical palette.
This time out though they seem to have gne for somethng we might call "beauty" in songs which often creep at a stately place, are layered musically and are of great sensitivity. So fewer musical explosions but more quality time in the headphones perhaps.
Few bands open an album with a slow ballad -- the lovely Obvious Bicycle -- or keep the mood so introspective through to the third track with its close-miked singing and an intrusive weirdly slowed vocal at the end. And Hannah Hunt -- there's no recession the VW's world, it's about a drive from Providence to Phoenix and money doesn't seem to be an issue -- is another (mostly) measured ballad with prominent piano.
The more rowdy song -- notably the incendiary Diane Young with its stuttering guitar, urgent keyboards and again processed vocal parts -- are also clever and knowing. Finger Back kicks in like My Sharona (but lacks its massive catchiness) and Worship You is driven by strident drumming and a tongue-twisting verses.

There are some real duds here however: the ponderous Don't Lie has all the musical and emotional grip of Teflon; and the string-enhanced Everlasting Arms has the lyrical ambition of a Paul Simon song but none of his musicality.
Lyrically of course VW remian at the high end of the education spectrum and here mention holy water, Angkor Watt, richer than Croesus, "you torched a Saab like a pile of leaves", the New York Times, etiquette and evisceration, The Isrealites and 19th Nervous Breakdown, "the legendary wooden gate that first established real estate" . . .
Yes, very clever and a real repeat play album -- skipping in a few places -- to weasel out the nuances. But this time out the cleverness seems more forced towards centrestage whereas previously it was more easily part of the texture.
The difficult third album no doubt and while it isn't without its problems, you sense they have just cleared the hurdle and are ready to sprint again.