Graham Reid | | 1 min read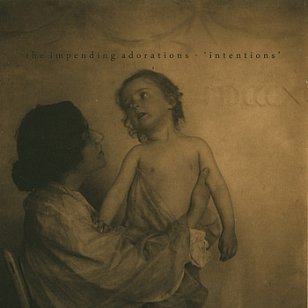 Late last year the New Zealand musician Paul McLaney wrote a piece for Other Voices Other Rooms (here) about the thinking and work process behind his album Gestalt, released under the name The Impending Adorations.
It is a beautiful album full of texture and nuance, and the first of his four planned releases under the Impending Adorations name.
The second in that series, Intentions, continues in a similar path of ambient sound (thunder, shutter clicks) woven through electronic beds, vocal samples in the distance and his warm dark brown vocals in foreground with lyrics which suggest spiritual states, the comfort of love, philosophical ideas and . . . just a real sense of mystery and allusion.
It isn't all stateless sonic landscapes because occasionally the mood is deliberately upset: there are chunky beats on If This is The River, Where is the Sea? which discreetly rides the edges of soul and bantam-weight electrofunk, and the space ambient keyboard figure which holds down Reason Why is cut across by stuttering drums and surface noise.
Life Burns Brightly -- which in another configuration could be a beaty and meaty radio ballad -- also feels like there's an inferno in the distance ready to catch alight behind McLaney's reassuringly melodic vocals. And Ever On at the end takes this out to a natural conclusion with children playing in the distance and, through stately electronic waves, brings a sense of peace and well-being.
McLaney has made clear he is doing these projects because technology means he can, but so far these are far from vanity productions. Very much worth tuning in for . . . and to collect the series.
The Impending Adorations album Intentions is available from bandcamp here for just NZ$7 download. It is expected there will be physical copies available soon also.