Graham Reid | | <1 min read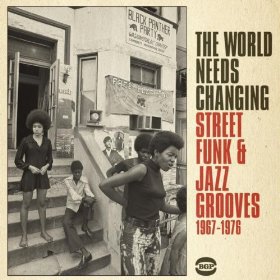 Although to some extent a companion volume to the fascinating Liberation Music collection of material from the Flying Dutchman label, this is very much a lesser cousin as the politics is tuned down -- despite funk and groove-riding songs with titles like All Power to the People (Joe Savage and the Soul People) and Walk Tall (Esther Morrow).
The very good liner notes make a useful point: that the liberal white crowd who had supported the Civil Rights movement of the first part of the Sixties had moved off into rock music, hippie culture and acid while the black crowd was reaping the whirlwind of Vietnam deaths, innercity riots, the epidemic of harder drugs and rise of black militancy.
So the clarity of focus of just five years previous was becoming more fuzzy and on the one hand you had angry voices being raised and others pleading for folks to just groove out.
This collection at least includes examples of all of that -- as well as the influence of African consciousness on the jazz and funk of the day (Just in Time to See the Sun by Leon Thomas), serious organ-driven funk (the instrumental Sissy Strut'n'American Woman by the Willard Posey Reunion who drag in the BTO song) and the likes of George Jackson and Lonnie Liston Smith.
There are also some very dirty funk grooves here, the dependence on wah-wah, falsetto voices and Gil Scott-Heron (Free Will).
But really this does feel rather cobbled together and lacking the sharpness of focus which the title alludes to.