Graham Reid | | <1 min read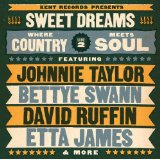 As the second volume to the excellent Behind Closed Doors collection, this one of black artists digging deep into country-soul should find favour easily.
Many of these artists bring a sad gravitas to the lyrics about cheatin' and heartache (Facts of Life on Sometimes, Ralph Lamar tearing himself apart on Don't Let Me Cross Over) although there is just as much MOR here (the great William Bell on Please Help Me I'm Falling, Joe Simon with Help Me Make It Through the Night, Dorothy Moore with Willie Neslon's Funny How Time Slips Away).
Yet even on these songs the singers throw themselves behind the sentiment in a way the white artists who charted with them certainly didn't. I'll Release You is a neat twist by falsetto/feminine-sounding Ted Taylor if you only know Engelbert's Release Me.
There is also humour (the wicked Clarence Carter telling us he's Bad News) and hurt (Don't You Ever Get Tired of Hurting Me by Bettye Swann).
And the late Bobby Bland -- one of the greatest soul and soul-country singers -- with I Hate You, and Esther Phllips (Sweet Dreams), Etta James (When I Stop Dreaming), Isaac Hayes, Johnnie Taylor . . .
If you've got Vol 1 (and you should have) then you need this.