Graham Reid | | 1 min read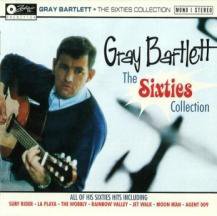 Although Gray (Graeme) Bartlett is best known today by that lovely old catch-all word "entrepreneur" -- he promotes concerts, discovers talent, tours national and international acts etc -- he was and remains a very fine guitarist, which was how he got his start in "show business".
At the end of the Eighties I accompanied him and his small band on a brief tour into southern China where he played excellent concerts to appreciative audiences, gave guitar tips and tuition to enthusiastic young people and was like a one-man ambassador for this country and his six string.
In a recent conversation with Shadows' guitarist Hank Marvin he and I spoke about how popular instrumentals were in the early Sixties. Not just by the Shadows but by pianist Russ Conway, clarinettist Acker Bilk (Stranger of the Shore), bands like the Ventures, Tornados and others, guys like Duane Eddy, Dick Dale and Link Wray, Ray Conniff and Billy Butterfield, Herb Alpert and . . . the list goes on.
Surf music was big (Pipeline by the Chantays, Wipe-Out by the Surfaris) and in this country Peter Posa was a massive star, especially after his hit White Rabbit. And we cannot go by without mentioning Bil Sevesi.
Gray Bartlett rode that surf/instrumental wave too and behind high-profile Peter Posa he was touring frequently, knocking out singles and albums, and with the acoustic piece La Playa he was, as they say but in this case it's literally true, big in Japan.
It went almost to the top of their charts and he toured there, and recorded an album In Japan.
This thorough 25 track collection not only showcases his diversity -- surf, twanging country'n'western, spy-influenced pieces which were also popular at the time, themes songs like those from The Munsters, Thunderball and the Third Man -- but also how prolific a writer he was. Seven are either written or co-written by him, and they slip easily into the various idioms he explored.
Of course an album like this -- MOR and perhaps too locked in its period -- will be too conservative for most listeners, but it does allow for Bartlett's first career to be given its due.
And the interesting liner notes by archivist and Frenzy founder Grant Gillanders, plus period photos and newspaper clippings, remind you just what a star Gray Bartlett was . . . back when instrumental music got its fair share of airtime.
Like the sound of this? Then check out this.