Graham Reid | | <1 min read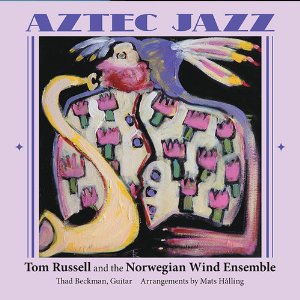 Even within the alt.country/Americana world, the bittersweet storyteller Tom Russell remains a marginal figure, despite almost 30 albums (and books) steeped in what poet Lawrence Ferlinghetti called "the wounded heart of America".
His songs have been covered by Johnny Cash, Joe Ely, Nanci Griffith and others, but it is his own emotion-filled voice on albums like Hurricane Season, Modern Art and the more recent Blood and Candle Smoke where he really connects.
For this album he picks some of his finest songs (he has plenty to choose from) such as Nina Simone, the autobiographical East of Woodstock, West of Vietnam about his time in Nigeria in the late Sixties, Goodnight Juarez and Stealing Electricity to perform live with a wind ensemble which brings the cinematic scope his lyrics evoke.
Sometimes a battered romantic but also a realist, Russell -- and his lyrics -- really shines in these orchestral settings (by Swedish composer Mats Halling) where that powerful voice rides across Tex-Mex horns, soft strings and the country-twang guitar of his sidekick Thad Beckman.
Longtime followers will welcome this concept and newcomers might be surprised by the depth and breadth of musical talent here. And his degree in criminology.
There is an interview/profile of Tom Russell at Elsewhere here.