Graham Reid | | <1 min read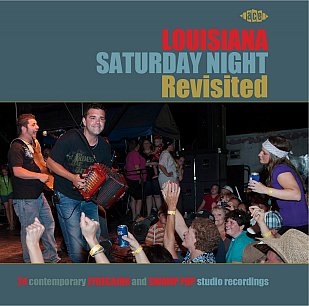 The liner note writer Ian Saddler echoes my experience driving through Louisiana, being dumbstruck by the lively Cajun, zydeco and swamp pop coming out of the local radio stations.
About 20 years ago the Ace label issued a couple of albums of Louisiana Saturday Night music and this one picks up some of the players on the scene today whose names -- aside from the great Warren Storm who came to New Zealand with Lil Band of Gold a few years back -- will be largely unfamiliar as they don't move far from their home state.
No need, they are constantly employed to deliver the partytime music.
That some of the singers aren't the most distinctive hardly matters because mostly it is the rockin' accordion and zydecajun sound which is what we are here for. But septuagenarian Jivin' Gene delivers some aching Southern soul on his own I'd Like to Hear From You, and the even older Storm still has it (Irene).
Willie Tee (Wilven Trahan from Lafayette, not the black soul singer of the same name) leads his band through some throaty cajun blues, Jamie Bergen has an almost Randy Travis country twang, and Michael Hurtt offers the interestingly entitled She Won't Turn Over For Me (the car/girl imagery interchangeable).
These are musicians who have been doing this music for decades and can turn Chuck Berry into cajun rock.
Partytime from Louisiana for a Saturday night.
If you like the sound of this, you'll like the taste of this.