Graham Reid | | <1 min read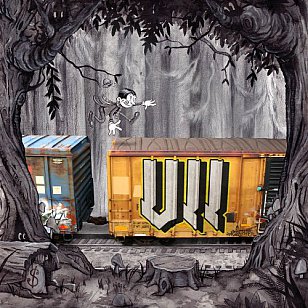 Curiously, the edgy take Portland's Blitzen Trapper brought to Americana hasn't caught on in this country which embraces Neil Young, Led Zeppelin and singer-songwriters like Steve Earle and Townes Van Zandt, all of whom this five-piece have referred to in the past.
Their American Goldwing two years ago should have broken them but didn't, and it's hard to see how this one could given it doesn't rock as hard and – although the stories are here across almost hip-hop/scratching rhythms in places – the same hillbilly vibe on more than a few songs here palls quickly.
Musically you can't take anything away from them (Thirsty Man and Faces of You have a real slick soul-funk pulse) and writer Eric Earley can certainly conjure up an image (the Dylanesque swarm on Oregon Geography where rain literally pours down) or a mood (the broody narrative on the swampy Valley of Death).
As a sinister collection of intense country-rap'n'soul (Earth is like urban rap dragged into the damp bayou) this is certainly an interesting new direction, but those who rejoiced when they rocked out or got the stories spinning will be struggling here.
And most of the last third feels like makeweights.
Different but disappointing.
Like the sound of this? Then check out this.