Graham Reid | | 1 min read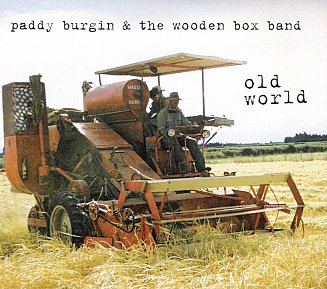 Wellington guitar maker and musician Burgin has recorded some understated and finely crafted albums of what he calls "Kiwi urban folk" or "unoffical Kiwi folk" and after his 2009 album My Sweet Town we had him answer the Famous Elsewhere Questionnaire here to point to his more recent one Gentle Landings.
This time -- again with a reliable cast of equals on bass, fiddle and percussion -- he once more looks to the local landscape and characters in songs which address the Pike River mine tragedy (the poetically understated title track which has a sentimentality but never once errs towards the mawkish) and the 19th century Scottish-born sheep rustler James McKenzie who was imprisoned in irons (but pardoned because of, that great New Zealand tradition, flaws in police procedures).
The album is punctuated in a couple of spots by very engaging instrumentals -- notably the slippery and gentle Say My Name -- but what also stands out is Burgin's way with a lyric.
In Bound for Glory we get, "Houses on the hillsides, who knows what lies behind the curtains and the balconies and the shutters and the blinds, Yet somewhere in that far-ago I still hear her sing, her voice so free and high above, a kite without a string".
Lovely image, and there are others equally as good throughout.
And The Wave is a reflective song about letting go of a loved one (with a melody which could be pushed easily towards cabaret in one direction or a jazz standard in another).
As befits the title and cover image, there is a pastoral and historic feel throughout -- Song of the South Island River, Daughter of Henry about a wartime love on foreign soil -- but the closer Little Favours is a timeless song about that fear of committment some have and the inevitable separation.
Once again Burgin has written an album of understated, exquisitely played songs.
You suspect he will never do anything less.
Like the sound of this? Then check out this.